This music game is completely crazy right now! Anyways, this is just a lil update for sum people. I'm currently working on a shitload of projects. Here's a rundown...
1.
K-Beta
.
Inner Loop Records is dropping The Maxx EP Wednesday Oct 29
. It's a
free
download blog jawnt. It's just to keep the people wet until the
DJ Alizay/K-Beta
mixtape drops next month and the album drops in the first quarter next year. I just got done mixing a joint for K-Beta's record that features
Slaine, Reef The Lost Cauze and V Nux
. Joint is bonkers! Also, just got back the best K-Beta track EVER! My dude Scott Stallone, who is vicious with the mixes, just sent it over 2 nights ago and it is a joint we are shooting a mini-movie to. It's called "Life Of cRhyme" and it's the most vivid explanation of Beta's life since he got out of jail in 2004. Also, the Overok produced D.C. posse cut ft.
Ra The Mc, XO, Southeast Slim, Laelo Hood, AP, & Tabi Bonney
will be on that mixtape- that shit is dope. If you are reading this and still don't know who K-Beta is...peep


CLICK TO HEAR HIS ALBUM "NIGGER" FROM 2006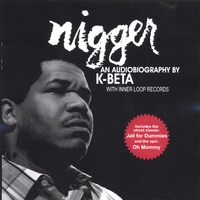 2.Bloodsport. dude is the truth. He's from Hunting Park in North Philly. He's done a whole album with Tragedy Khadafi. I've been working with him since 2004 when I actually met him while in the studio with Tragedy. He has a new album coming next year on Starrblazz Records/?????? He has recently dropped "Stay Back" ft. Styles P and produced by The Runnerz and "Put Your Paper On It" featuring Rick Ross also produced by The Runnerz. His album "Prepare For The Worst Pray For The Best" ft. all production by J-$crilla & Chop-La-rok of Guns-N-Butter, The Runnerz & MegaHertz. He's got a joint we did featuring Hell Rell that's B-A-N-A-N-A-S!

Click here to jump on the Bloodsport bandwagon


Also here's Raise The Hammer 3 that came out almost 2 years ago. He's all over this joint (joints that say Starrblazz and Bloodsport)...


3.Reef The Lost Cauze. Guns-N-Butter produced the entire Reef the Lost Cauze album "Fight Music" which features Big Noyd, Slaine (LCN,) King Magnetic, Bloodsport, K-Beta & Akir. IT's mixed/mastered and we're just finishing up some paperwork and videos and waiting for "Vicious Cycle" to do what it do. The album is nuts and it's 11 joints thick making you want more. Reef is currently on tour with Jedi Mind Tricks & Outerspace so check him out. Tha album "Fight Music" should be out Jan/Feb next year on Inner Loop Records/???????

CLICK HERE to get more of REEF


4.AP. Adam (government time) has been making noise in the DMV for a few years and he's The Prince Of The Middle East. He recently has made serious noise while being featured on hiphopgame.com and deemed a future Hall of Famer by none other than former A&R for Atlantic- Sickamore. He has a mixtape with Commonwealth/Stussy dropping soon and a Don Cannon joint dropping ASAP. Best thing is....Inner Loop Records is producing an entire album with the next to blow from The DMV! Check out AP as his first national single drops next Tuesday...

CLICK HERE TO PEEP AP
and
HERE


5.Ra The MC. I'm lacing Ra with a couple joints for her first project. I think it's coming out on the new hiphopgame.com distrobution channel. Ra was hiphopgame.com demo of the month a few months ago and has a solid mixtape out "A Mixtape About Something." She's collaborated with sum good people and her rep is getting very BIG right now. She's one of the dopest females poppin right now. Top 3 easily. Period.

CHECK HER BLOG OUT HERE


6.SMIF-N-WESSUN. Yep, those dudes. I got some shit me n Steele are working on. He sposed to send me a joint he just did with Smooth The Hustler and Big Trig over one of my jawns. He's dropping a new digital album at the end of year and he's breaking off some new clothing company. You also may have heard Heltah Skeltah's album "D.I.R.T." I did "APE MUSIC" on there with StU Bangas.


7.Kevlaar 7. He's from the group The Wisemen. They dropped an album last year on Babygrande Records. He's Bronze Nazareth's brother and he's fuckING ill. Rza co-signed and he's working on the new EPMD project too. I got some heat with him and rumor has it that stic.man from DEAD PREZ will be on one of the tracks I did.
CHECK HIM OUT


8.William Cooper. i met will cooper back in 2002 when I was Hi-C and he was Booth. He was working with Tragedy. He produced a bunch of shit for Trag actually. His production is sick. He hasnt been makin many beats lately but he is dropping his solo album soon. It has Killah Priest, Hell Razah, Timbo King, Blue Raspberry, Bloodsport, Bronze & Kevlaar on it. Me & chops did 4-5 beats on that record. Cooper and I have been thru a lot. That's my ace right there. He was at my crib in uptown on Georgia in b/w Kennedy and Jefferson while I was at work when someone broke in! haha. Check his video out...



9.J-$crilla. That's me! I got a secret project I'm working on that is gonna be crazy... I've already started it and only 1 soul knows about it. ME! I'll let yall in on that later...

10.
Sketch
. Me & Sketch have a new album dropping next year. We are kinda getting into it heavy right now. sketch was "
Unsigned Hype" in the Source
last year. He's straight up the most potent lyricist in Virginia (well, him & Beta.) He dropped an album last year called "Ill" and it featured
Illa Ghee, Trife The God
and some others. Our album will have some flavoristic appearances by some ill dudes. Check my fellow Acura TL driving brethren
HERE

11.King Magnetic. This 6 foot 10 giant is dropping his debut album next year. He is a member of The Army Of The Pharoahs and a thisis50.com mainstay. He has a mixtape put out with Shadyville and DJ Woogie. He has a number of albums and mixtapes he's recently dropped. He grinds heavy and is a strong arming rapper. HAHA. He'll get someone to do a show with him in allentown, PA (where he stays) and hold him hostage til they record like 6 songs!!! lol. He's a beast on the mic. I think one of the tracks i'm doing for his album is going to have AZ on it. He'll also be on the $crilla/$ketch album. Check him here.


12.Ankh Amen Ra. My dude Ra is the fuckING truth!!!! He is the future fresh king of the 2050 maybauch zoot suit. He just dropped "The Awakening" - I produced 7 or 8 joints on that. We did "Yes We Can" about Obama and it had the internet going nuts over the summer. He's working on 2 new EPs. One entirely produced by me and one entirely produced by Judah. Watch out. He's also the voice of hiphopgame.com. Read his journal and download his album HERE


13.Guns-N-Butter Presents "RAISE THE HAMMER VOL. 4". StU Bangas, Chop-La-Rok & J-$crilla will be dropping that in 2009 or as soon as Chops touches down from his bid. At the top of this post I put up Vol. 3 DatPiff player. I gotta put up Vol. 1 hosted by Nature and Vol. 2 as well.


14.INNER LOOP RECORDS. We are doing the monthly BEATDOWN- the ONLY Producer Showcase in DC. We are developing into a functional label with Reef, K-Beta and AP releases soon to come. We are strategically placing ourselves within the The DMV and World to make sure our talents are super-imposed on teachers butt cheeks all over the GLOBE!!!!!mwhahahahahahahaha.
CLICK HERE TO VISIT OUR STOOOOOPID FRESH WEBSITE


15.Laelo Hood. Funny how I ran into dude after so many years. we been workin a lot lately. He has a crazy album bout to drop. I did a joint called "Preach" that is undeniable and DJ G.I. Joe is doing the cuts on that one. We gonna be doing a lot more work soon. Check him out here


Maaaaaaan. There's a lot more tracks I'm getting placed and such but I'm done for now. I got joints on Slaine's albums/mixtapes, Doap Nixon's joint, shit with Cassidy, JR Writer, Illanoise, V Nuckles (MY DUDE!!!,) Amadeus's joint (one featuring Statik Selektah's artist REKS,) and much more...I'm GAAAAAAWWWWWWWN